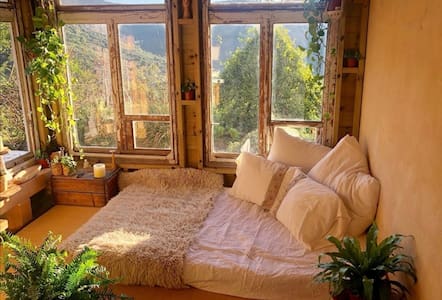 Suite de invitados entera · 2 huéspedes · 1 cama · 1,5 baños
Airy small apartment, Galilee, 5 min from clil
Small cozy apartment, next to our (it have shear wall) but completely private. breathtaking view from the bed, the sun get into the bed at morning . small kitchen everything you need for tea or coffee or even small cooking דירת סטודיו נעימה ונקיה , צמודה לבית שלנו. עם כניסה נפרדת ופרטיות, שקטה צנועה ונעימה. כניסה פרטית מיטה לכיוון הנוף וקצת כמו לישון בחוץ מתאים למי שאוהב לקום עם השמש ששולחת קרנים לתוך המיטה שרותים ומקלחת פרטיים. גבול שמורת טבע, מיקום מעולה למטפסים, מרחק הליכה מצוקי גיתה.
Opiniones de los huéspedes:
"Estuvimos tres noches y disfrutamos cada momento. Valió la pena conducir para llegar allí y experimentar el lugar, la vista a todas horas del día, la fogata por la noche y la encantadora familia de propietarios. El apartamento es hermoso, pastoral, y los propietarios son geniales. Igualmente vale la pena, conducir y disfrutar! No olvide visitar una comida vegetariana en el asentamiento cercano, sumergirse en Nahal Kziv y estar en la playa de Achziv al atardecer ... Pero el B&B fue una experiencia en sí misma."
We rent out a fully furnished, non-smoking cabin, perfect for couples. You will have your own private room with a bathroom, mini kitchen, internet and tv. We are located in the center of Eilat, next to the Red Sea. *1.2km from main bus station *1.6km from the airport *1.8km from the beach, boardwalk and shopping mall. *5km to Dolphin Reef Their are restaurants, a supermarket and shopping within walking distance, as well as a 24hr mini market across the street. Their is free parking in front of the entrance, or if you don't have a car we are close to a main road, so take the bus or catch a cab easily. We provide: *clean sheets and towels *dessert cooler (similar to air-conditioning) *cable TV *Wireless Internet (FREE) *snorkling gear and styrofoam cooler *kitchenette *washing machine *any advice about good restaurants, diving, kitesurfing and other fun activities in Eilat. **We can get you informations to local cruises on a yacht, water relaxation therapy, and diving with dolphins!!** Your hosts (and neighbors), a fun-loving Israeli and crafty Frenchman, speak English, French, Spanish and Hebrew. Their love of the ocean and it's many attractions brought them together back in 1981, and since then have raised a family and settled into the Eilat lifestyle. The kids have grown and flown away to other cool ocean locations, but their need to spoil and take care of others has not dwindled. So come and stay with us, in our warm and welcoming house :)
Opiniones de los huéspedes:
"La acogedora cabaña es una joya rara. Cada detalle en la habitación es perfecto. Es una sala independiente con, literaria, todo lo que necesitas. ¡Billy y Jerome son increíbles! Corazones cálidos y gente generosa. Tenía ganas de estar en casa. Si vas a Eilat, este es el lugar donde alojarse. Billy y Jerome, gracias!"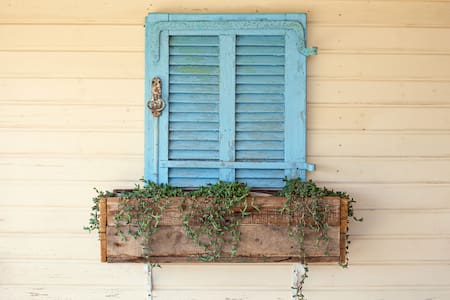 SUPERHOST
Suite de invitados entera · 7 huéspedes · 4 camas · 1,5 baños
Peaceful home in center of upper galilee
the guest house situated inside the big roof of our country home. it is all made of wood. it feels warm, homey and welcoming. from the big window in the living room you can see a view of Hula valley and the Golan heights. it is very quiet and peaceful here. if you are in to yoga or meditation, it provides a perfect environment.